PSYCHOTECHNICAL EQUIPMENT ASDE DRIVER TEST N-845
Twittear
PSYCHOTECHNICAL EQUIPMENT ASDE DRIVER TEST N-845 DESCRIPTION
The Psychotechnical Equipment Asde Driver Test is a normalized equipment (homologated by the D.G.T., General Directorate for Traffic) and compulsory for every psychophysical recognition center, as is established in the annex of RD 170/2010. This equipment is designed for the accomplishment of psychotechnical tests through a set of totally and specific tests focused on the detection of deficiencies and mental illnesses through the analysis and measurement of the psychophysical and psychological aptitudes.
Characteristics:
The Asde Driver Test N-845 includes a Certificate of First Calibration, countersigned by the Colegio Oficial de Físicos (official physical college).
Optimizes the psychophysical exploration and eases the results analysis.
Integers the results of the exploration tests through the management centre GIC (e) WIN software, which incorporates them to the Medical Record.
Drivers (Driver Test):
Anticipation Velocity test.
Visuomotor Bimanual coordination test.
Multiple Discriminative Reaction Time test.
Concentrated Attention and Monotony Resistance test.
Acceleration and braking test.
Weapon carriers (TDA 01):
Precipitation test.
Fatigue and Reaction Time test.
Norm transgression.
Personality test (I.A.E.)
ADVICES FROM PSYCHOTECHNICAL EQUIPMENT ASDE DRIVER TEST N-845
According to the European Directive 93/42/CEE, your medical equipment must be qualified as such by the Agencia Española del Medicamento y Producto Sanitario (Spanish medicine and sanitary product agency).
Under the sanitary product license number 6366-PS is registered our product which besides complies all the actual normative.
The other products that are not in compliance with the aforementioned normative are illegal. Hence they cannot be calibrated, which is also compulsory.
Carry out the periodic maintenance and calibrations, as is required by the article 9 section b) of the Real Decreto (Spanish decree) 170/2010.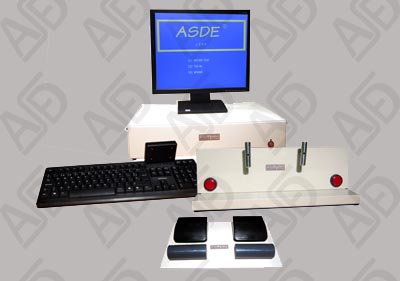 RELATED PRODUCTS WITH PSYCHOTECHNICAL EQUIPMENT ASDE DRIVER TEST N-845